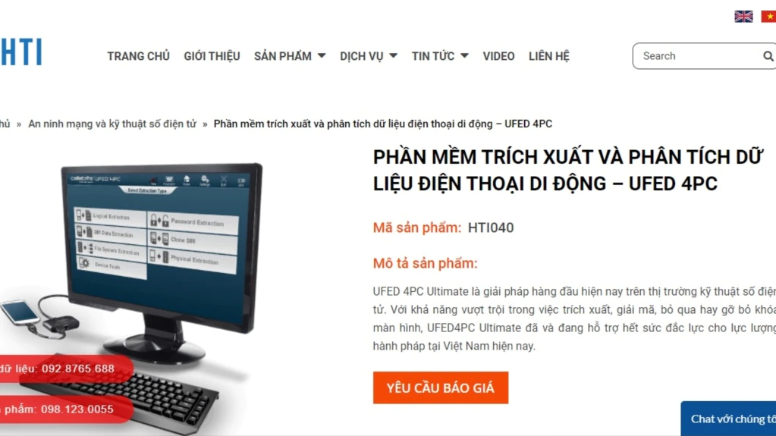 Israeli human rights activists recently spoke out against an Israeli company that sold mobile phone hacking software to the Vietnamese Ministry of Public Security which uses the purchsse to monitor and crack down on journalists and human rights activists.
Israel's Haaretz news website reported on July 15 that Israeli human rights lawyer Eitay Mack and Israeli human rights activists had just sent a letter of protest to Cellebrite and Amir Eshel, a senior official of the Israeli Ministry of Defense in charge of monitoring exports of spying technologies.
Israeli company Cellebrite is best known for a product called UFED that is used by law enforcement agencies to extract data from locked cell phones. The company says the product is used to help solve serious cases involving terrorism, or child rape. However, investigations by lawyer Eitay Mack show that the company has sold this product to the authorities of some countries for the purpose of suppressing the opposition such as in China, Russia or Hong Kong. After being discovered, Cellebrite stopped selling this product to China, Russia, Hong Kong and Belarus.
According to the investigation of lawyer Eitay Mack, one victim of this software in Vietnam is a person named Le Hong V., who was sentenced to five years in prison for allegedly violating Article 117 of the Criminal Code on anti-state propaganda in November 2018.
According to Haarets newspaper, Mr. Le Hong V. before being arrested had an argument related to a gambling area near the border with Cambodia. This man, then, decided to hang the flag of the former Republic of Vietnam near the cockfighting area with the purpose of letting the police see it and come to dismantle the cockfighting site which is considered illegal in Vietnam. However, instead of destroying the cockfighting area, the Vietnamese police prosecuted and arrested Mr. V.
In his letter, attorney Eitay Mack published evidence that Cellebrite's UFED product was sold to the Ministry of Public Security and has been used since 2014.
In addition, according to the investigation, HTI, a company specializing in software and technology services, is the representative of Cellebrite in Vietnam. The company sold Cellebrites' software and organized user training for the Ministry of Public Security.
Thoibao.de (Translated)
Source: https://www.rfa.org/vietnamese/news/vietnamnews/what-vn-is-doing-with-israeli-phone-hacking-tech-07192021074936.html